For All Mankind's women astronauts on the fight to make space for everyone
The Apple TV+ alt-history shows a more inclusive version of NASA in the Apollo era.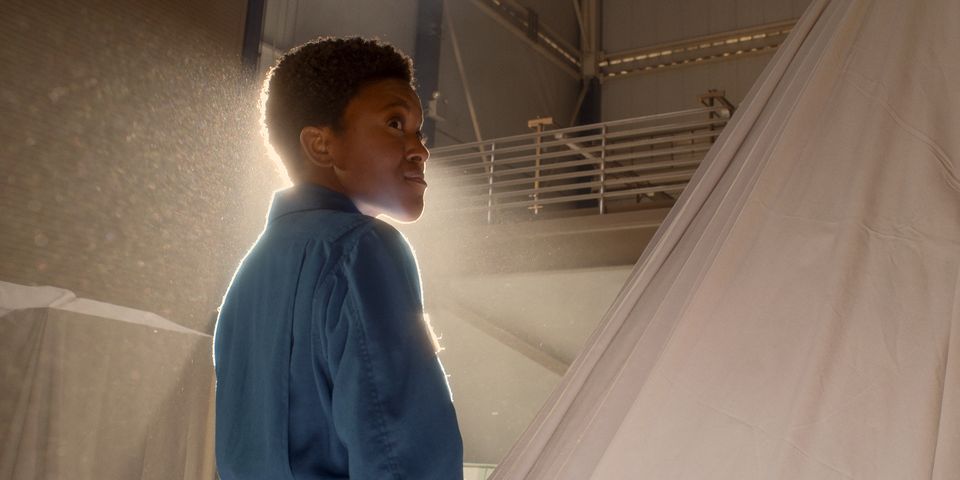 Wrenn Schmidt didn't know much about spaceflight when she got a part on For All Mankind, Apple TV+'s alt-history series in which the Cold War space race never ended. But with the help of the former NASA astronauts and flight directors, Schmidt got the crash course in rocket science she needed to play Margo Madison, a brilliant engineer who rises through the ranks of Mission Control in the heyday of the Apollo Program.
By Season 2, which time jumps from the mid-1970s to 1983, Madison is no longer just another math jockey. She's the director of NASA's Johnson Space Center, overseeing numerous missions in both low Earth orbit and on the Moon. "Margo," Schmidt told The Science of Fiction, "is the boss."
It's a stark departure from the real history of the space program, in which women played essential, but mostly behind-the-scenes roles as computers, programmers, and secretaries in the 1960s, '70s, and '80s. NASA didn't send the first American woman into space until 1983, and it only appointed its first female flight director in 2018. For Schmidt and the other actresses playing women who get to command missions during the height of the Cold War, it's thrilling to reimagine this early chapter of space history in a more inclusive way. But as several of them noted in interviews with The Science of Fiction, even in For All Mankind's relatively progressive retelling of American space history, every small step toward equality is a hard-won battle.
"One of the things I love about our show is that, yes, we are living in an alternate reality where gay rights happened earlier, where women's rights happened earlier, and where diversity is more included in NASA," Krys Marshall, who plays astronaut Danielle Poole on the show, said in an interview. "And that's all lovely. But our story is not a Pollyanna story. It's not a Disneyland story."
Indeed, it's a story that starts out similar to the real history of human spaceflight, with the U.S. and the U.S.S.R. racing to put the first person on the Moon throughout the 1960s. But things start to veer in a radically different direction when the Soviet Union wins the space race, placing the first man on the Moon in 1969, followed shortly thereafter by the first woman. It's a huge embarrassment for the U.S. government, and it forces NASA to ratchet up its space program so that America can surpass the rival superpower's accomplishments. Shortly after Soviet cosmonaut Anastasia Belikova steps on the lunar surface, NASA decides to train an entire class of female astronauts.
Poole, who represents the many Black women NASA employed as computers in the 1960s and '70s, is among that first class, along with Ellen Wilson (Jodi Balfour), Molly Cobb (Sonya Walger), and Tracy Stevens (Sarah Jones). These women go on to command missions and play pivotal roles in establishing a permanent human presence in space. Poole and Cobb are among the first astronauts to live inside Jamestown Base, America's first moon base, in the early '70s; by the early 1980s, Wilson is running the show at Jamestown 2.0, which can host up to 30 astronauts at a time.
"Women are leaders, very much so in our world," Balfour said in an interview. "And you see the trickle-down effect of what that's done to culture in a broad sense. There is a ripple effect that having women in these positions has had on society at large."
That's not to say these women have it easy—in fact, throughout Season 1, the misogyny of the era is on regular display at Mission Control. For Poole, who's not only among the first women in space but the first Black person in space and on the Moon, the pressure to always perform at 150 percent is "exhausting," Marshall said. "It's exhausting to carry around a hammer so you can break a glass ceiling."
In Season 1, Marshall says that Poole's fear of overstepping unspoken racial and gender boundaries holds her back from asking for more missions and responsibilities when she knows she's earned them. But we see the character start to speak up for herself more in Season 2, taking NASA astronaut chief Ed Baldwin to task in an early episode failing to place a Black astronaut in command of a mission after more than a decade of regular crewed missions into space.
"We see Danny really fight tooth and nail and call Ed to the carpet and say to him, 'you know, riding in the back of the bus is not enough. It's not enough to just be happy to be on the bus. I want to drive. I want more.' So that was exhausting for Danny, thrilling for me, very juicy and delicious to play," Marshall said.
Balfour's character faces a quieter struggle that's no less crushing: how to reconcile her taboo sexuality with her career ambitions. Like Sally Ride, the first American woman in space who kept her lesbian identity a secret until her death, Ellen Wilson fears that coming out will ruin her career. That fear is very much validated in Season 1 when she and Larry Wilson, a gay engineer at NASA, become the center of an FBI investigation. (The two wind up marrying to head off suspicions about their sexuality.)
Balfour said that the show's decision to more closely reflect the oppression and intolerance LGBTQ people experienced in the '70s and '80s was intended to remind the audience that "that progress doesn't happen in equal measure."
"It's deeply, deeply heartbreaking and frustrating and insane making that some progress happens, but not all progress happens," Balfour said. "And that, I know, is very important to the writers. We had a lot of discussions about why [growing equality ] wouldn't also encompass LGBTQ rights, like why this would happen in such fits and starts. And it was really important to them to reflect our own reality in that way."
For Walger, learning about the early history of the space program and the structural misogyny that pervaded it was eye-opening. Her character, she says, is "loosely based" on Jerrie Cobb, one of the so-called "Mercury 13," a group of women pilots who could have become NASA's first female astronauts in the 1960s. Despite demonstrating an aptitude for spaceflight, these women were never formally trained as astronauts by NASA, a fact some historians ascribe to former President Kennedy's 1961 proclamation that the space agency would "send a man to the Moon."
"It was a really fascinating pocket of history," Walger said. "And it was also a discrepancy I had never thought to question. I really had never thought to ask why there hadn't been a woman on the Moon until I did this show. I simply hadn't thought about it. And now that I have, I can't believe that I hadn't thought about it."

Indeed, discrepancies between For All Mankind's fictional 1983 and the real 2021 underscore a truth: the fight for equality in space is far from over. NASA still hasn't put a woman or a person of color on the Moon, although it is aiming to reach that first overdue milestone (and hopefully the second?) with the Artemis program in 2024. Very few missions have been commanded by Black astronauts, while LGBTQ people remain a rarity in the space program (and none have come out by choice). Hopefully, as NASA re-orients toward crewed missions to the Moon and beyond, shows like For All Mankind will inspire more people of all identities to aim for the final frontier —and challenge our institutions to bring everyone along for the journey.
Enjoying these posts? Subscribe for more